Spooky Halloween cocktails are delightfully creepy and an excellent way to get the party started! Fill your cup with these uniquely scary drinks, and you are bound to have a great time no matter what you are doing. Plus, if you are the host or hostess of the party, your guests are going to go wild!
Scroll to the bottom to find non-alcoholic Halloween mocktails.
We've also got a whole menu of slimy and creepy Halloween Jello shots to check out.
We've got you covered for all the holidays, like these green cocktails for St. Patrick's Day that don't involve beer.
Tasty And Spooky Halloween Cocktails You Must Try
Don't be afraid, these drinks only look scary! They taste amazing!
Double bubble toil and trouble. This Aladdin inspired cocktail will wow your guests with a touch of dry ice. Don't worry, it's actually easy to source! Made with Pineapple infused vodka, cherry liqueur, grenadine, and a splash of lemon-lime soda, this is the ultimate wonder. With dry ice for effect, you will be the life of the party.
This dark and broody cocktail contains Jagermeister, spiced rum and a secret ingredient – silver shimmer – to give it that special touch.
Bring on the bourbon and the blood in this frightening cocktail. Amp up the colors with blood orange liquor and pomegranate juice, then top off with sparkling green blood dripping down the side, for a sweet and creepy treat.
Who Needs a Cape
This spooky cocktail only takes 3 ingredients and is super easy to make. Plus, how can you not have a blast with a drink like this in your hand. Rim your glass with Halloween sprinkles and enjoy the sweetness every sip of the way.
Snacks and Sips
This bright green drink is made from vodka, Triple Sec and Kool-Aid! It adds life to any party, and if you have a couple, you are sure to get nice and drunk. Add a creepy spider to make it even more frightening.
Mom Foodie
It has Kinky Green Liquor, so if you drink it you will probably feel a little kinky yourself! This cocktail is so easy to make and looks fabulous in a martini glass.
Ann's Entitled Life
This drink has Candy Corn Vodka, a large marshmallow, marshmallow creme, a candy eye, and food coloring. What can be any more delicious than that! I mean it has a marshmallow after all.
Tammilee Tips
Only 3 ingredients to make this Spooky Halloween cocktail! And let me tell you, it is for sure spooky. Perfect for your next Halloween themed party.
Crayons and Cravings
Sour apple is the star of the show in this tangy cocktail. The color just screams Halloween! You are sure to have a good time drinking this one.
Mom Foodie
Okay, so these aren't exactly a cocktail and should be served in a shot glass. But, they are super creepy and will make you the life of the party. Oh, and they taste phenomenal!
She Keeps a Lovely Room
This drink is elegant, creepy and just what you could imagine Morticia drinking on a Halloween night. Everyone at your party is going to love this one.
Our Crafty Mom
Serve this martini in beakers, and it will be a massive hit with your friends and family. Sprite, Apple Rum, and Kissed Caramel Vodka marry together to create one of the best cocktails ever.
Bacon is Magic
Halloween will be extra entertaining when you sip on this zombie cocktail. Shake the ingredients, and you will be ready to drink this all night long.
Vintage Kitty
This spooky cocktail even has an edible eyeball to add to the ambiance! It is impossible to drink this and not have a spooktacular night!
Foodal
Celebrate Halloween in style with this cocktail. Orange juice, pineapple juice, vodka, Peach Schnapp's, and champagne are just a few of the tasty ingredients.
The Slow Roasted Italian
A few drinks in and you might let a Vampire suck your blood! Just kidding, but it is a spooky drink that you won't be able to get enough of. It is so delicious and looks awesome!
She Keeps a Lovely Home
Only 3 ingredients that need to be shaken and put in a fancy glass to complete your Halloween party. This cocktail will bring a smile to your face and a buzz to your brain!
Sugar and Soul
I realize the name of this drink doesn't sound appetizing for a regular day, but for Halloween it is perfect! The great news is that there is no real blood in this drink!
The Baking Fairy
This cocktail gives you the feeling that you are a magician! It has cotton candy, so you know it is a real crowdpleaser!
Crayons and Cravings
This drink just sounds cool! Strawberries, Everclear, Hot Tamales, and sugar are the main ingredients in is tasty cocktail.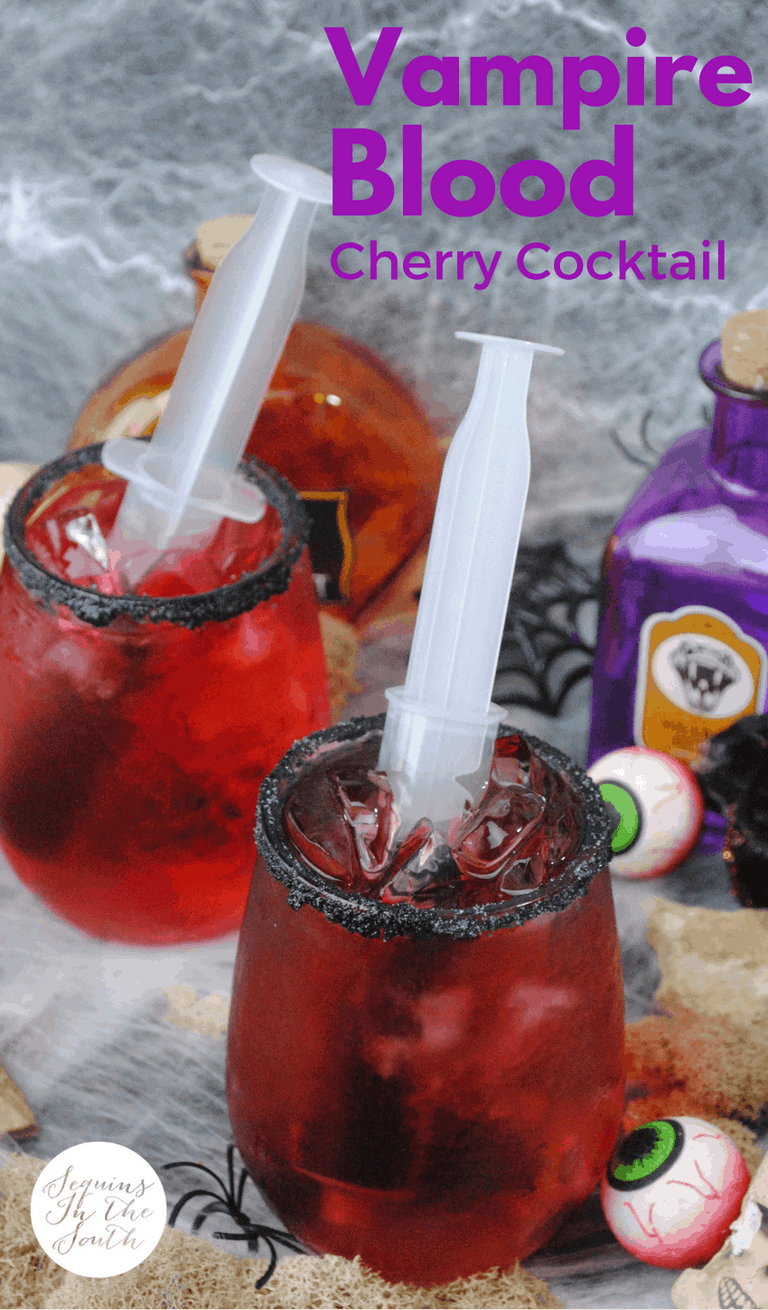 Sequins in the South
This bloody cocktail is a perfect halloween drink. I mean who doesn't want blood viles in their drink?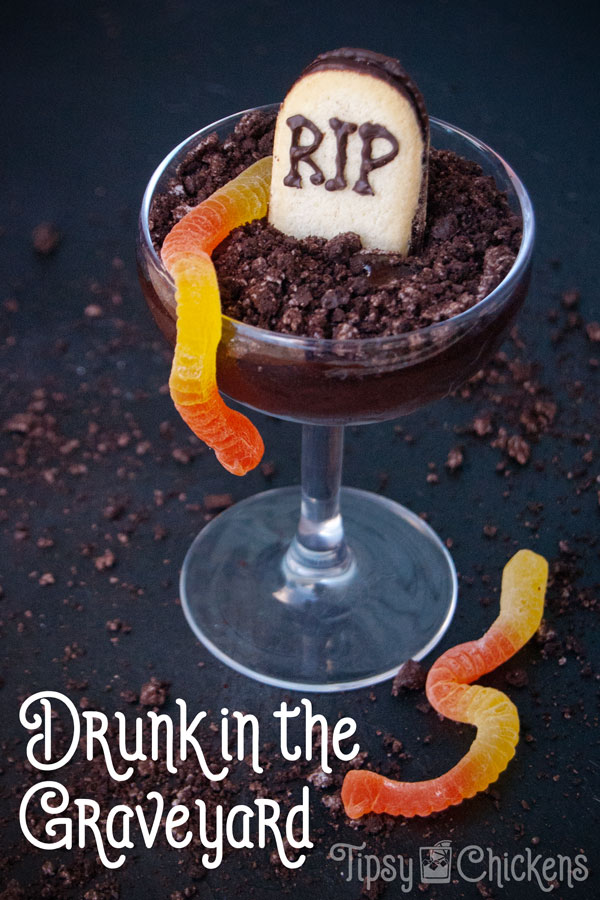 Tipsy Chickens
Pudding is always delicious, but its even better when its spiked. With worms, dirt, and a gravestone, you Halloween is sure to be a blast.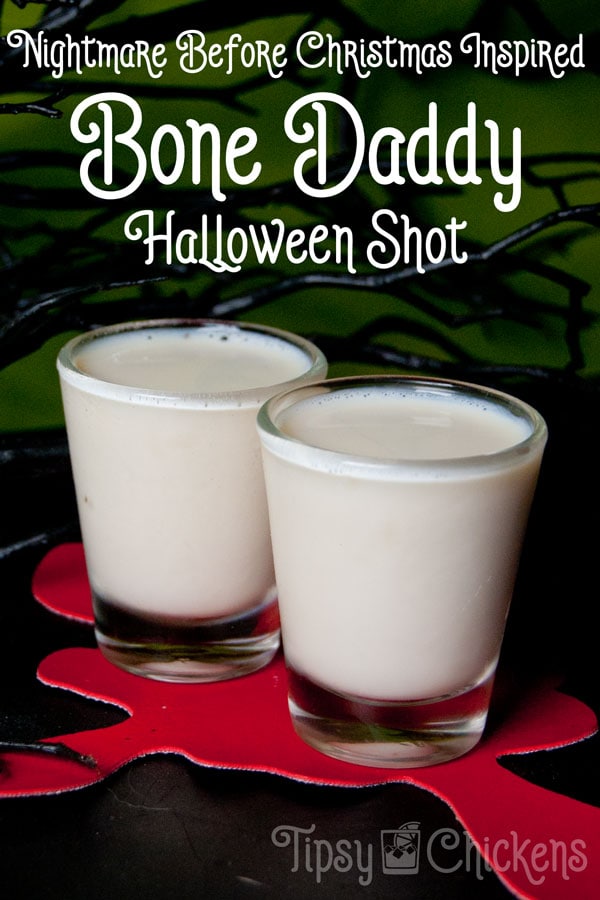 Tipsy Chickens
Shot! Nothing says party like a shot. With Black Rum and Cinnamon Cream Liquer, you have Christmas and Halloween all in one.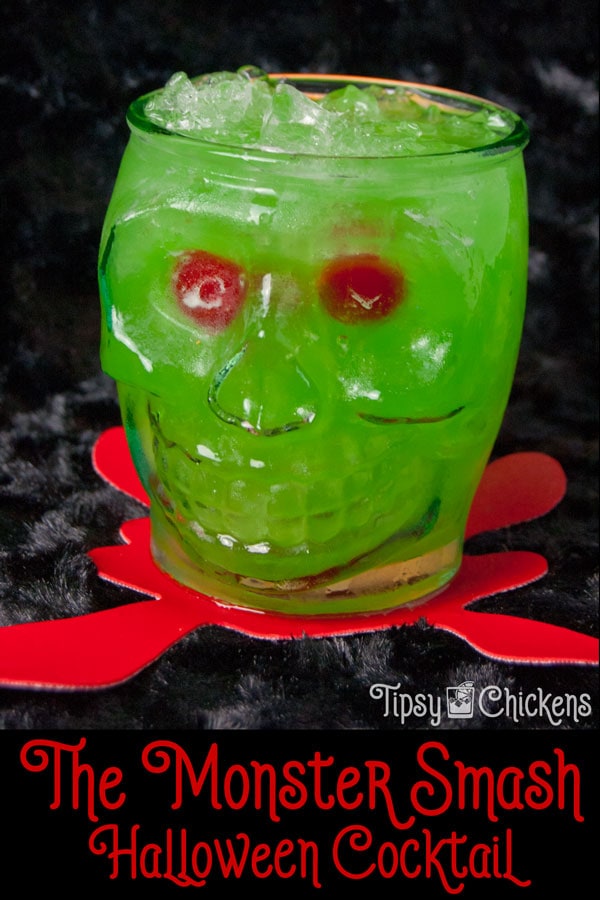 Tipsy Chickens
This Monster Smash Cocktail looks best if you use the spooky glass. How else can you get a drink to stare at you perfectly like this?

Halloween Cocktails with Non-Alcoholic Halloween Mocktail Options

Shrimp Salad Circus
This recipe uses agar-agar for the floating brains instead of gelatin, making it vegetarian-friendly! You can get agar-agar at an Asian grocery or on Amazon. This specimen jar cocktail uses white wine, sparkling wine, or sparkling grape juice.
Aspiring Winos
Murky swamp water is the perfect Halloween mocktail – green and purple are served up from the witch's brew in her cauldron.
Baking Beauty
Harry Potter fans will go nuts over this drink! The whipped cream takes it to the next level of awesome. Add in whatever alcohol you enjoy. I think that Malibu Rum would taste amazing in this one.
Simply Happy Foodie
The floating hands in this vodka-based punch are sure to get your guests attention! They will love every single drop. Plus, you can simply leave out the vodka if you have a kid-friendly drink table.
Thrifty Recipes
This non-alcoholic Dragon's Blood is made with Hawaiian Punch and 7-up. While it is a perfect deep blood color for Halloween, it can be a year-round party drink.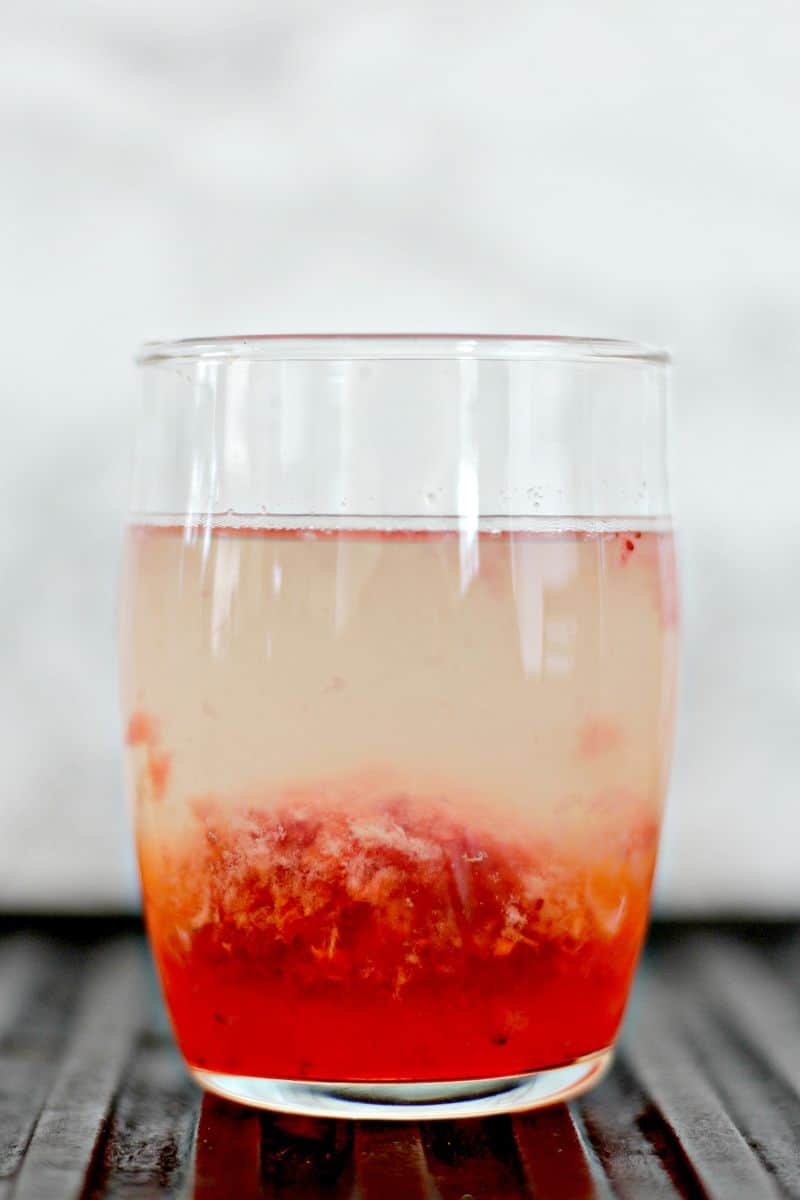 Squirrels of a Feather
Is it flesh? Is it brains? These Zombie Gore Guzzlers feature chunks of reddish-pink gore globbed grossly at the bottom. It's perfect for kids.

The Purple Pumpkin Blog
The great thing about this Eerie Eyeball Fruit Punch is you can make it non-alcoholic for the kiddos and alcoholic for the adults. Vodka, Dark Rum, Spiced Rum, Bacardi, Peach Schnapps, and barcardi all pair nicely with the non-alcoholic version.
Food Meanderings
I'm melting! I'm melting. This green non-alcoholic melting witch punch is fun for everyone.
As you can see, there are so many spooky Halloween cocktails that you can make at your next event. I promise that these drinks will impress your friends and family and you will love the flavors too. So, break out the glasses and start drinking these creepy cocktails!